I've been wanting to meet my loyal readers and followers but it really takes so much time and effort. The first one I tried was just a mini meet up with 20 winners during the Row 101 Pop-up Bazaar. Then I joined VIP Vloggers Meet and Greet Party together with my YouTube friends which was organized and hosted by VIP Magazine and Vain City. Both meet and greet events were very successful so when my co-blogger and good friend Rochelle of rochellerivera.com invited me to join another meet-up party this December, I was super game!
We thought to have our official hashtag for the event and since I'm with these beautiful people inside and out, I came up with the idea to call our group "Blogger Babes" and finally the hashtag #BloggerBabesXmasMeet since I have a feeling we'll do this kind of event again.
We did a giveaway and raffle entrance passes to 60 lucky followers. At first, we got worried if we'll be able to get enough brands to sponsor the products that we'll be providing during the event but it turned out really well. Thank you so much to these brands who trusted and supported us. Without them, this meet and greet / Christmas party wouldn't be a success. Each of us also gave away products and items from our own collection to add more prizes.
Our program started with a prayer led by one of the attendees, Roxane Cabile-Montierro.
I always feel excited to share my knowledge with makeup so we had a short makeup workshop.
I was surprised that a lot of them wanted to be the model for the workshop so we decided to get someone with the least makeup on, and here's Arleen Oboguin who seemed to have no makeup that day at all.
She seems so happy with her look!
BINGO AND RAFFLE!
There were 10 lucky winners for our Bingo game and 5 from the raffle. The prizes were provided by one of our sponsors, The Opulence Skin. You can also follow them on Facebook and Instagram @theopulenceskin.
Super thankful to one of our blogger friends, Kaye of www.ilovekeisha.com for giving away 5 gift packs from her new baby Kaleisha Collection.
Her cute princess Keisha was the one who did the raffle. Follow them at @kaleishacollection on Instagram.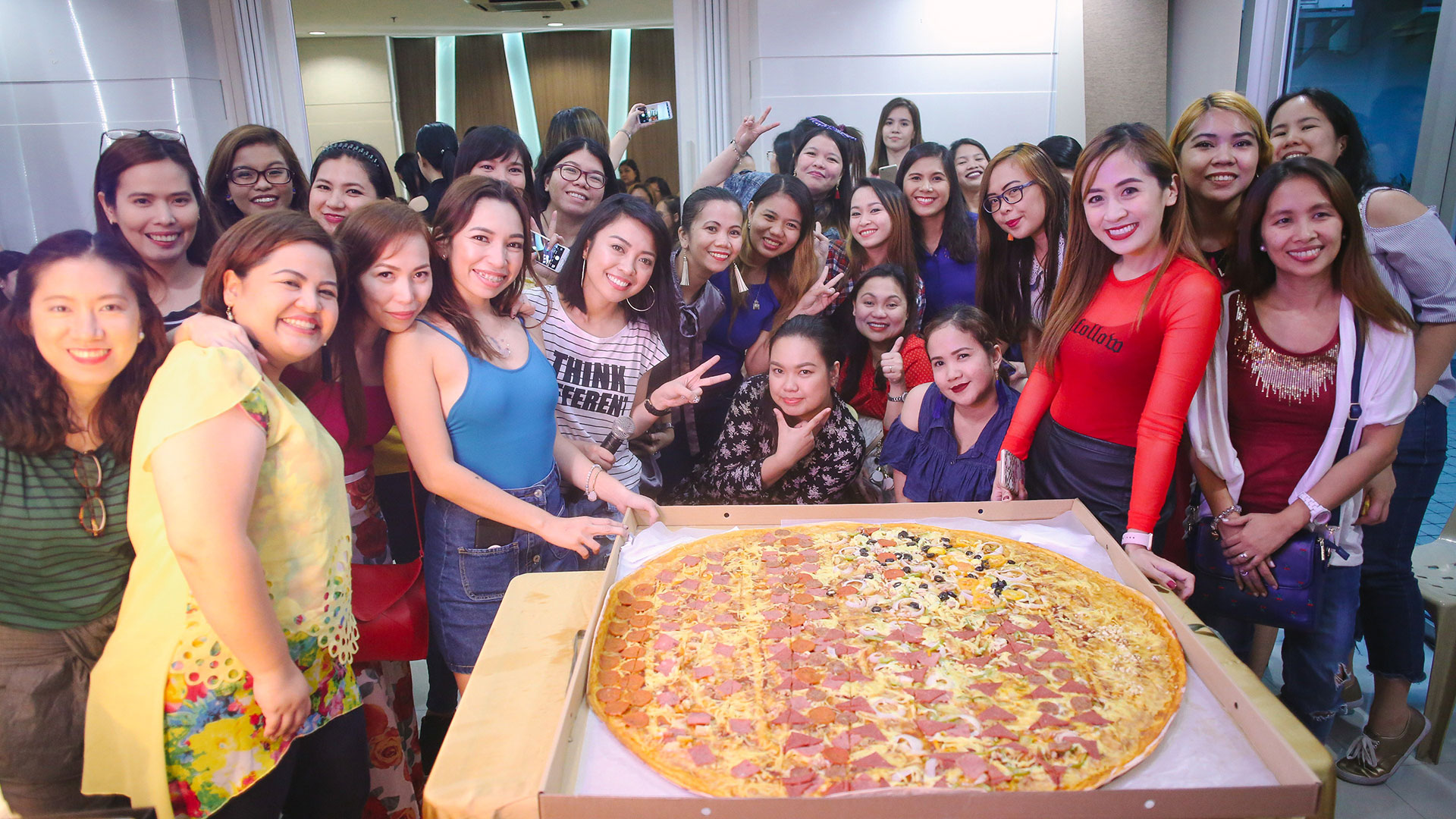 BIG GUYS PIZZA
Everyone enjoyed this 36-inch pizza with almost 70 slices and good for 20 persons. This is perfect for parties and get together events. They have 14 branches within Metro Manila and will have more soon nationwide. For more details kindly visit  https://www.bigguyspizzaph.com.
The bonggang prizes! Thank you so much Panasonic Beauty Philippines for providing us not only your best selling products for raffle but also makeup stations (lights and makeup chair) during the event. We highly appreciate your utmost support!
One of the prizes is my ultimate favorite hair straightener the Panasonic EH-HS95 iron! Watch my review above and please don't forget to (LIKE AND SUBSCRIBE to my channel for more videos!).
Mitzi Mendoza won the Panasonic Nanocare Facial Steamer worth 6,499.00 , Arleen Oboguin went home with my favorite EH-HS95 Hair straightener, and Vivian-Balana Chu won the Panasonic Hair Dryer worth 4,999.00 pesos.
Gardenia Delicia
Everyone's favorite bread, Gardenia! When you talk about tasty bread, it's always Gardenia. I remember when I was still living with my parents, they will always ask me to buy Gardenia from the nearest sari-sari store.
We raffled 10 Gardenia Delicia Gift Packs! It comes with their yummy Hazelnut Chocolate Spread!
I also have a new favorite! Since I travel and go to events almost everyday, Gardenia Pocket Sandwich is perfect for me. We also included this to their loot bags.
For more details, visit their website http://www.gardenia.com.ph and https://www.facebook.com/DeliciaPhilippines. You can also follow them on Instagram and Facebook at @gardeniaph.
SVELT'I
When it comes to beauty and wellness, we trust Svelt'i services. Thank you so much Dra. Marj Salazar for being so generous by letting our followers and friends try your best selling services in Svelt'i like Accufirme, Thermogenic, and Facials.
For inquiries you can contact them here: (02)332-7546 / 09188-SVELTI (783584)
Or visit the clinic at 5F South Insula Condominium #61 Timog Avenue, Quezon City from Mondays to Fridays from 9am-6pm and Saturdays from 8am-1pm.
Belle de Jour Power Planner
Inside their loot bags, we also included Dare To Be Grateful cards from BDJ. It's a nice way to remind ourselves and to make us feel inspired everyday.
You can find their products and more information at ilovebdj.com then follow them online at @bdjbuzz and @bdjbox
Pretty Toolbox
Thank you so much Pretty Tool box (@prettytoolbox on Instagram) for giving each of the attendees this super cute Brush Egg Cleaner! Find them also on Facebook: https://www.facebook.com/vanitymirrorbyprettytoolbox/
Charms for Luck
My mom and I loves crystals and charms. Up to this day, we still buy that yearly "pabuenas" bracelet with different stones and crystals so I got pretty excited when I heard they'll be one of our sponsors!
Each attendee got a Rose Quartz pendant necklace then Rose Quartz bangle for us blogger babes. Thank you so much Charms For Luck!
Rose Quartz symbolized unconditional love and infinite peace. It was absolutely the perfect Christmas gift a woman could receive as it purifies and opens the heart at all levels and brings deep inner healing and self-love.
Home of Authentic Lucky Charms & Healing Crystals
REIKI HEALING, TAROT READER, CRYSTAL HEALER, SERAPHIM BLUEPRINT PRACTITIONER
Instagram: @charmsforluck
https://www.facebook.com/thecharmsforluck/
Ellana Mineral Cosmetics
The Philippines No.1 Mineral Makeup, Ellana Minerals provided each attendees premium makeup samples and my all-time favorite, 10 Brush Cleaners for raffle.
Shop online at www.ellanaminerals.com
Follow them on Facebook and Instagram @ellanaminerals
Kanebo Philippines and Kate Tokyo Philippines also gave away deluxe product samples. I've actually tried the Kate Mousse BB and it's so good! No need to wear powder on top of it.
Visit www.kanebo-ph.net for more information.
Instagram: https://www.instagram.com/kaneboph/
Facebook: https://www.facebook.com/kanebophilippines/
KATE TOKYO is a trendy and innovative brand of makeup that embodies the fun and unique spirit of Tokyo.
Visit kanebo-ph.net/kate for more information.
Instagram: https://www.instagram.com/katetokyoph/
Facebook: https://www.facebook.com/katephilippines/
Rochelle also shared Downy and Safeguard products for loot bags. For sure we all use Downy for our clothes and Safeguard is one of the most trusted soap brands that we use for the family.
I can say that this is by far, the most memorable Christmas Party I've ever been to!
We made sure that no one will leave empty handed. Aside from the raffle prizes, we also curated, together with the lovely sponsors, gift bags for all our followers and supporters.
There was also an online contest where all attendees can post their photos over on Instagram and use the proper hashtags and tags for a chance to be one of the lucky 10 winners of gift sets from Jolly Cow, May Sparkling Wines, and Jeunesse Anion!
Jeunesse Anion
Visit http://www.jeunesseanion.com/products/ for more information.
Instagram: https://www.instagram.com/jeunesseanion/
Facebook: https://www.facebook.com/JeunesseAnion/
Jolly Cow is a UHT Fresh Milk made with 3.5% butterfat content making it a creamylicious drink sourced from Germany's premium and purest farms.
May Sparkling Juice is a delightful drink, ideal for parties. It's a refreshing, non-alcoholic drink that is made from selected grapes. Enjoy two delightful flavors of Red and White Grape.
Ladykin Philippines
Ladykin gave a complete set of Korean goodies for raffle.
Founded in 2005, Korean leading beauty and cosmetic brand, Ladykin having years of know-how, provides the best quality cosmetics with reasonable prices. VCASA INTERNATIONAL INC. has become an official distributor in Philippines.
You can buy Ladykin products at PUREBEAUTY Serendra/Trinoma/Glorietta 4
Presenting the BLOGGER BABES
Christine Fernandez
Blog: www.AllAboutBeauty101.com
Instagram: https://www.instagram.com/allaboutbeauty101ph
Twitter: https://www.twitter.com/kleng05
Facebook: https://www.facebook.com/allaboutbeauty101
Youtube: https://www.youtube.com/allaboutbeauty101
Rochelle Rivera
Blog: www.rochellerivera.com
Instagram: https://www.instagram.com/rochellemiko
Twitter: https://twitter.com/rochellemiko
Facebook: https://facebook.com/therealrochellerivera
Youtube: https://youtube.com/rochelleriveravideos
Michelle Estranero
Blog: https://www.r0ckstarm0mma.com
Instagram: www.instagram.com/r0ckstarm0mma
Twitter: www.twitter.com/r0ckstarm0mma
Facebook: https://www.facebook.com/r0ckstarmomma/
Youtube: http://www.youtube.com/c/RockstarMomma
Kaycee Enerva
Blog: www.kikaysikat.com
Instagram: www.instagram.com/themachomom
Twitter: https://www.twitter.com/kikaysikat
Facebook: www.facebook.com/kikaysikat
Youtube: www.youtube.com/KayceeEnerva
Gen-Zel Habab
Blog: http://www.Gen-Zel.com
Instagram: https://www.instagram.com/genzelaces
Twitter: https://www.twitter.com/genzelaces
Facebook: https://www.facebook.com/genzelaces
Youtube: https://www.youtube.com/genzelaces
We would like to thank everyone who gave us their time on a rainy Sunday afternoon. Your presence, love, and undying support is priceless and I hope we were able to give back to you the joy and happiness you guys are giving us even just for a day.
I will always be forever thankful for these gorgeous ladies, Christine, Kaycee, Michelle, and Rochelle for the genuine friendship and sisterhood. I love you guys and here's to more projects, campaigns, and events for us this 2018!
Are you guys up for another party? Say #BloggerBabesVdayMeet? Comment below if you're in! 🙂